Written by joshua | 01 February 2012

The dust has settled, and another exciting National Signing Day is in the books. Today was no different than signing days of the past. There was shock and awe, disappointment, jubilation, and many moments where you couldn't help but scratch your head (ie, Deontay Greenberry). While a top ranked recruiting class, doesn't necessarily translate into a top ranked football team, winning battles in the recruiting trenches, can go a long way towards success on the field. Many programs around the country, put the wheels in motion towards success on the gridiron by adding depth to their squad, filling needs, or simply by signing a game changing athlete here or there.
Before we close the door on the 2012 recruiting class, and look towards the 2013 class (recruiting never stops), we must take a final look at this year's class, primarily amongst Florida's big three universities. There is no greater recruiting hot bed than the state of Florida. That has been proven year after year with the number of blue chippers that have signed and excelled at D1 programs. On any given Friday night during the fall, you can make your way from Dade County, all the way up to Jacksonville, and find a great deal of special athletes putting their talents on display.
Being that the state is so fertile, it makes it so each of the big 3 (FSU, Miami, and Florida) can land their fair share of talented prospects, this year was a prime example of that. Today, Florida State, Miami, and Florida were able to secure top ten recruiting classes. We will take a look at the pros and cons of each class, starting of with the Miami Hurricanes.
It has been evident that the Canes have been down the past few seasons, and while you can point the finger at a number of things, primarily a coaching change, the one thing that sticks out to me is the lackluster recruiting classes they have brought in. It seems like just yesterday, that Coach Randy Shannon was putting the finishing touches on what promised to be the most heralded recruiting class of all time. That class, was their 2008 recruiting class that featured 12 ESPNU 150 commits, (and what seemed like Miami Northwestern High School's entire Senior class). Names like, Arthur Brown, Jacory Harris, Marcus Fortson, Aldarius Johnson, and Brandon Harris highlighted the class that was supposed bring Miami back to the national dominance. Four years later, it's easy to see that those expectations, both personal and on a team level, were not met. This could be attributed to a number of things, coaching, work ethic, a little of both, but at the end of the day Miami simply has not got it done both on the field and with recruiting in some time.
Enter Al Golden. Mr. shirt and tie himself, took over for Randy Shannon last season and had a subpar 2011 campaign. We won't dig to deep into the Hurricanes 2011 season, because that will take entirely too long. Instead let's focus on the job Golden did with his first recruiting class in Coral Gables. Golden inherited a team with many glaring needs, as he will be losing his best players, either early to the NFL, or to graduation. The Miami Hurricanes signed 34 recruits on NSD, yes I said 34. As, I stated above the Hurricanes lost a lot of talent and production from this past season and are also preparing for NCAA sanctions that are likely to come, with severity yet unknown. Golden was able to secure signatures from the likes of CB Tracy Howard, RB Duke Johnson, and WR's Malcolm Lewis and Angelo Jean-Louis all elite prospects, that any number of other big time schools, including Florida State and UF, would have been happy to have. The Canes also received signatures from defensive standouts, DL Jelani Hamilton, and LB Rafael Kirby.
Unfortunately for Golden, the rest of the names in this class, aren't ones that will instantly jump out at you. Their is a major drop off after the first 8-12 names you see in this class. While every class cannot be littered with 5* prospects, it is easy to tell that Miami is simply not getting the caliber of athlete they once were, and that fence that once surrounded Dade and Broward Counties, has long been torn down. While I do admit that keeping players like Howard and Johnson at home is a great sign for Golden moving forward, it's not enough for me to say that Miami is once again on the level of Florida and Florida State, when it comes to recruiting the state of Florida.
Miami's Grade: B
Now we turn our attention to Gainesville, and the Florida Gators. Above I discussed Miami's 2008 recruiting class, which never panned out, and when I think of that class I cannot help but think of the Gators 2010 recruiting class. If you thought Miami's 2008 class was impressive on paper, get a load of this. The Gators brought in 27 recruits, 17 of which were ranked in the ESPNU 150. Folks, that's just insane. That included four prospects in the top ten, and an unbelievable overall defensive haul. Coach Urban Meyer was at the helm of the Gators, and simply could not miss in the recruiting trail that season, it was fate for Meyer to land that class, (or was it faith?) Well, that's a story for another time, but it didn't take long before that class began to faulter. The headliners of that class wasted no time making noise at Florida, but not on the field. From arrests, to boycotts of practice, to threats of transferring because they felt they weren't treated accordingly, this class began to fall apart, rather quickly.
While the jury is still out on some of those elite recruits, many of them have already left the program or have yet to pan out, proving that stars and rankings isn't an exact science. This past season was the first as Florida head coach for Will Muschamp, who came over from Texas. The Gators went through, what I guess we can call a rebuilding year, and barely finished above 500%. Muschamp took to the recruiting trail this past season, looking to address serious needs that the Gators had. On Wednesday, Muschamp and Florida signed a very defensive heavy class of 23 recruits. While the Gators didn't sign 17 ESPNU 150 commits, they did sign 9, which is solid. Muschamp signed a stellar defensive class, led by DE Johnathan Bullard, CB Brian Poole, and S Marcus Maye. They also added depth to the offensive line with OT D.J. Humphries, and OG Jessamen Dunker. You also can't look past TE Kent Taylor, and RB Matt Jones.
While this recruiting class may lack the names of playmakers at the top like years past, the Gators put together a solid class that addressed their needs. But, what will go down as a solid class, could have been a epic class had Mucshamp and it staff closed better on NSD. The Gators still have a shot with standout athlete Stefon Diggs, who didn't sign and will visit Maryland this weekend, but missed out on elite prospects, CB Tracy Howard, WR Nelson Agholor, DE Darius Hamilton, DE Leonard Williams, and OLB Josh Harvey-Clemons. All prospects that they seemed to lead for at one point in their respective recruitments. We all know that you win some, and you lose some in recruiting, but 0-5 on those prospects is not good, no matter how you slice it.
Florida's Grade: B+
And now on to the Seminoles of Florida State. Now, I find it very fitting that since we took a look back at the Canes, and Gators top classes in recent history, that we also take a look back at the Seminoles best class in recent memory. It just so happens that class, was the 2011 recruiting class, which was ranked number one by ESPN. The 2011 recruiting class was Jimbo Fisher's first official class as head coach, and he wasted no time stockpiling elite talent in Tallahassee. Though it is way, way to early to disect the Noles 2011 recruiting class, it is safe to say they got off to a better start than both Miami's 2008, and Florida's 2010 class. Players like Tim Jernigan, Bobby Hart, Devonta Freeman, Tank Carradine, and Rashad Greene all significantly contributed on the field this past season. Other players from that class such as Karlos Williams, Nick O'Leary, and James Wilder Jr, among others, showed flashes, and will likely make big contributions on the field this fall. It must be noted that, Fisher and his staff capitalized big time from being the longest tenured coaching staff among these three schools.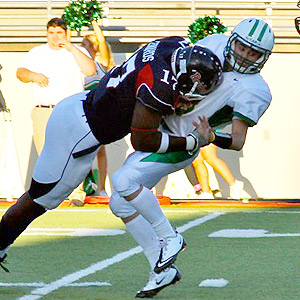 Jimbo Fisher and his staff used last year's number one class as momentum towards putting together another top class. This year Florida State didn't have many available scholarships and signed 19 young men. While the Seminoles didn't have many spots in this class, they were sure to target the cream of the crop, and in the end put together a tremendous recruiting class, including 10 ESPNU 150 recruits. This class is headlined by a group of defensive lineman including, Mario Edwards Jr., Eddie Goldman, Chris Casher, and Justin Shanks. The Noles also added dual threat quarterback Jameis Winston, and a running back in Mario Pender who is an early enrollee. CB Ronald Darby and WR Marvin Bracy are not only outstanding football players, but both have world class speed, and will also run track while at FSU.
Being that the Seminoles could only sign 18-21 kids with this class, the coaches needed to be on point with their evaluations and selective with the offers they handed out. At the conclusion of signing day you could see that the FSU coaching staff was very pleased with the way they closed, and very excited about the level of talent in this class. While the Noles may have missed on linebacker Josh Harvey-Clemons or wideout Ricardo Louis, they were able to close with a bang on NSD, with their additions of DB Colin Blake, arguably the nation's top corner in Ronald Darby, and the nation's top d-tackle Eddie Goldman. The Seminoles will take a full class next year (23-28) and will look to again be in contention to land the nation's top recruiting class.
Florida State's Grade: A
While all three of these programs compiled top ten recruiting classes in 2012, two classes stuck out. Those two classes were Florida and Florida State. I must first say that I am very impressed by what Al Golden did with all of these NCAA sanctions, that are yet to come down. He was able to convince south Florida's best two players (Howard and Johnson) to stay home and attend Miami, and he was also able to bring in a few solid athletes, with very high ceilings (Lewis, Hamilton, McCord) If the NCAA doesn't totally handicap Golden and Miami, it is possible that they can make their way back, but they are still a ways away from FSU and Florida, both on the field and on the recruiting trail.
As I said earlier, Muschamp and his staff have brought in a very solid 2012 class. The one thing that bothers me about this class, is that I can't stop thinking about how good it should have been, if they didn't fall flat on NSD. The Gators brought in future playmakers (Maye, Taylor, Bullard) and also added depth along the offensive and defensive fronts, which is a must if you want to be a title contender. All in all, Muschamp has to be happy with this class, but he also knows if he and his staff would have closed better, this could have been a national championship caliber class.
This brings me to the Seminoles, who I feel (as you can already tell by the grades) brought in the best class in the state of Florida, and the second best class in the nation (Alabama, just wow). I feel this way for a few reasons, the first being the overall talent of this class. FSU signed 19 players, 10 of which were in the ESPNU 150. Some perspective for you, FSU's #1 2011 recruiting class had 29 signee's, 12 of which were ESPNU 150 recruits. You can see that the FSU coaches were not playing, and targeted the best of the best and not only did they target them, they got their man, almost every time. I also like that the FSU coaches did not reach for any prospects. While they didn't have many misses, even if they did, the plan was not to take a recruit of a lower caliber. Between this year's class and last year's class, Florida State has become one of the deepest and most talented teams in the nation, and the Seminoles are poised for a national title run.
Something else that I noticed, which I thought was interesting, and something that I purposely haven't addressed yet. As we all know by now, longtime FSU commit Dante Fowler Jr. decided to spurn the Noles and sign with the Gators on NSD. FSU then in turn, was able to flip longtime Miami commitment Reggie Northup, who went on to sign with the Noles. Not too long after, The Hurricanes were able to get a commitment from longtime Gator lean, Tracy Howard. I thought this was a promising sign for recruiting in the state of Florida, which as we all know is at it's best when all three of the state's premiere programs are battling it out for the sunshine state's top talent. If NSD 2012 was a peak into the future of recruiting in the state of Florida, then the future looks brighter than ever.